by Tom Athron '21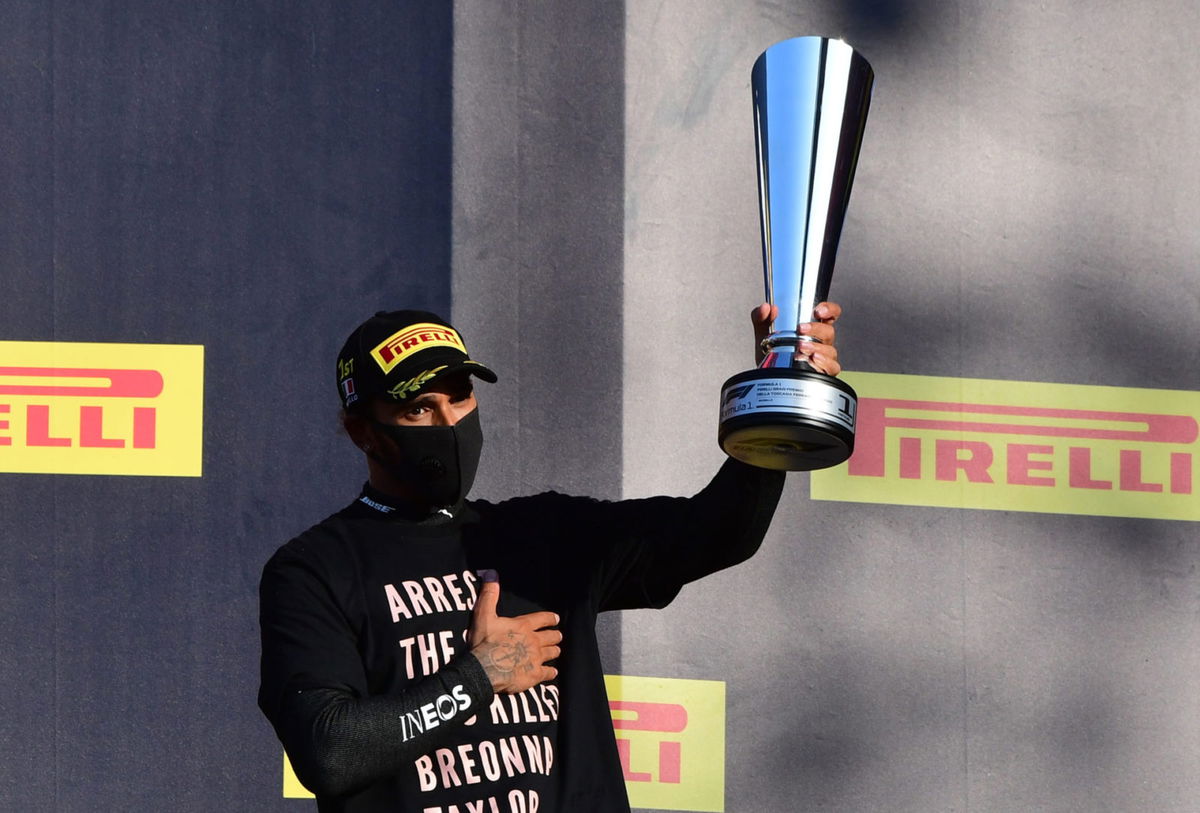 Published Oct. 13th, 2020
After winning the Tuscan Grand Prix in Mugello, Italy, Lewis Hamilton shared a message of racial justice by wearing a shirt bearing the words, "Arrest the cops who killed Breonna Taylor," during the podium ceremony.
Hamilton, a six time Formula One world champion, is the first and only black driver to ever race in F1.
This gesture, prompting support and controversy from many, is just one of Hamilton's many public calls for racial equality and justice both in Formula One and the wider world.
Hamilton has also continued to call for action on social media, captioning a recent Instagram post with: "It's been 6 months since Breonna Taylor was murdered by policemen, in her own home. Still no justice has been served. We won't stay silent. #JusticeForBreonnaTaylor."
The Brit entered the sport in 2007 and suffered extreme amounts of racism from many in F1.
In Spain, during pre-season testing in 2007, a group of fans showed up to the circuit in blackface wearing shirts that read, "HAMILTON FAMILY."
Now, Hamilton's team, the Mercedes AMG Petronas F1 Team, changed it's livery from it's classic silver to a black and turquoise design in support of it's star driver and of increasing diversity.
Formula One has also organized the #WeRaceAsOne campaign after Hamilton publicly criticized the organization for not taking a stance on the issue.
Now, every team on the F1 grid runs some version of the #WeRaceAsOne logo on their cars in support of Hamilton's cause.
All 20 drivers have taken to wearing anti-racism shirts before races, and many have taken to kneeling before races in solidarity with the movement.
However multiple drivers such as Daniil Kvyat of AlphaTauri and Max Verstappen of Red Bull Racing refused to take a knee.
When describing a driver meeting led by Hamilton before the Austrian Grand Prix with Autosport.com, Renault driver Daniel Ricciardo said: "The chat [on Friday] with the drivers was essentially saying all of us are 100% on board with supporting it and ending racism. None of us are anti this, so we all support this."
"I just think there was a little bit of difficulty with some drivers and their nationality, and what something like taking a knee would represent," Riccardo added.
"We heard all of them, all their opinions, and we are not going to try to put anyone in jeopardy. We all understood that we will do what we feel comfortable with. But no one is going to be judged or criticised if they don't stand there in a certain way or take a knee."