by Catherine Gonzalez '22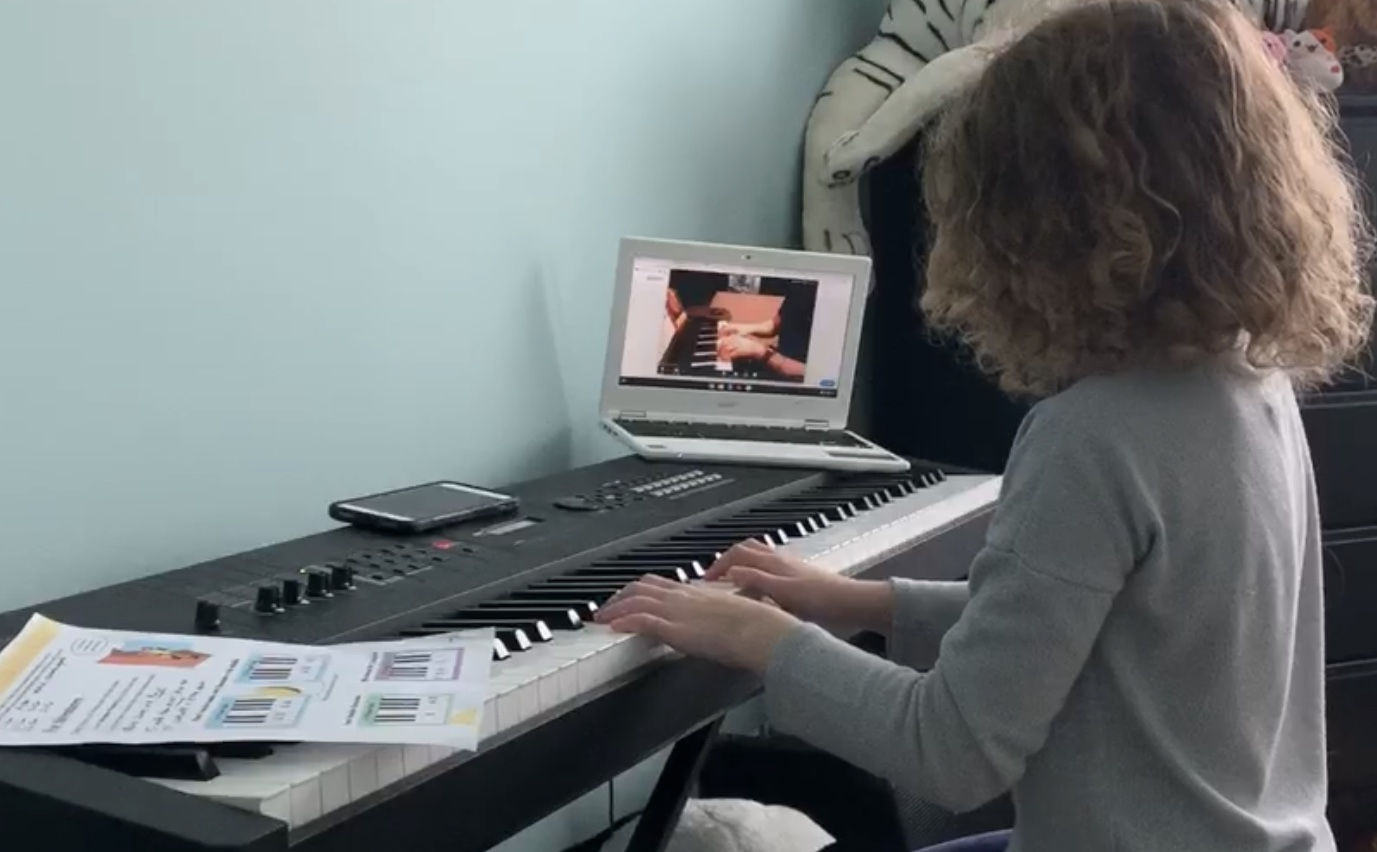 Published Dec. 23rd, 2020
Communication of various sorts is necessary in both teaching and learning music; but can it be achieved through a screen?
Despite the physical limitations, the curtain has ceased to be drawn over music lessons, and students and teachers are saying, "The show must go on!"
As may be expected, the general learning process for individual students and teachers has changed in many ways since the start of the COVID-19 pandemic.
The circumstantial issues with online video calls, such as lags, are leading to misunderstandings between students and teachers, whether this is with the speaker's intentions or the student's ability to comprehend the exact correction being given to their music.
For Amelia Cunningham, an MHS junior and music student, violin lessons with her former teacher "already had a language barrier which was kind of hard to cross even just in-person." Now, with the difficulties of virtual communication, lessons have been "very frustrating for both of us," Cunningham said.
Noises in people's homes also provide a challenge during music lessons.
Miss Teresa Lim, an instructor of piano, voice, ear training, theory, and composition, said, "Teaching students in a home surrounded with door bells ringing, exterior sounds from other areas of the house (eg: kitchen, pots and pans, etc.) can be a distraction."
However, despite the challenges, the online medium has taught many skills. For example, teachers have to find the best ways to address students that now fail to attend scheduled lessons and constantly require rescheduling.
"It's been me learning to put my foot down," said Cunningham, both a violin scholar and teacher.
Another newly obtained skill for many music teachers, in terms of the physical distance between instructors and students, is teaching from different angles.
Cunningham's student is currently working on technique, an aspect that is key to the foundation of a student's violin abilities. She's tried to assist her student in fixing their left hand wrist technique on the violin, blocking, but found this to be an especially difficult challenge.
"[My student] would physically have to do it for herself instead of me [positioning the wrist] and then her immediately getting it," said Cunningham.
This also necessitates adapting with specific students based on their personal responses to the virtual environment.
"Sometimes [the students] have a mental block that they can't get through and you need to attack it from a completely different angle," said Cunningham.
Over the past 9 months, the virtual world of music lessons has adapted because of the patience and devotion of both the students and teachers.
"Both teachers and students are getting used to this form of teaching and learning and getting creative and more improvements made since April," said Lim.